I awake with a sigh, my little foray across the Solent is nearly at an end. At least I can see the sea today from my balcony as I watch the last vestiges of the sunrise disappear, perhaps my camera will have a happier day. At breakfast all the guests are fascinated by the red squirrels flitting back and forth outside the windows. None of us have ever seen a red squirrel, well in the flesh as it were, their beefier grey American cousins have put paid to them almost entirely in England, they fare slightly better in Scotland and Ireland however. I see the grey ones everyday, they're generally running up and down the trees outside my windows, chattering away. They are pretty bold, street-wise city squirrels and seem to show no fear. These slighter, more delicate, shyer long-eared red ones seem to be a lot more cautious and never linger but for the merest moment in one spot lest something should pounce. I make it my mission today to shoot one. I hasten to say with my camera only. Knowing I have nothing remotely resembling a true telephoto I'm going have to try a bit of sneaking up on them whilst they gorge at the handy nut feeders positioned near to the house. Hmmm, I wonder how successful that plan will be. But first it's back to the beach.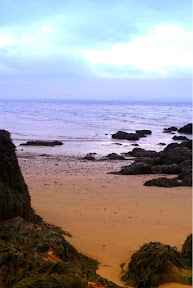 My first shock is that there's scenery, a lot if it, both to the left and right. Yesterday it was just walls of white. Today there are kites flying and dogs cheerily chasing crows and splashing about in the water.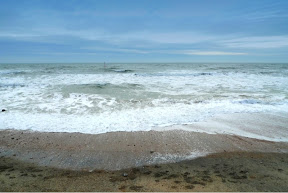 There is a slither of blue sky this afternoon, not enough "to make a sailor a pair of trousers" so I doubt it will improve.
The golden sand with an artful piece of driftwood being gently caressed by the frothy waves will sadly have to be an image solely in my head. The reality is a whole lot more stark, wintery, lacking the warmth and the light quality I crave so I will have to resort to a touch of Photoshop wizardry to juzz them up a bit!
On returning from the beach I see if I can get one of those red squirrels in my sights. I find a couple cavorting in the trees near the house, but it's clear they are not going to let me get too close. In the end I decided that showing one of these flighty creatures against the backdrop of one of the perfect chocolate-box cottages would be very fitting.
After the photography 'expedition' it had turned a little chillier (more like the weather I had at home before I left) so I had the perfect excuse to make myself cosy in front of the roaring fire. And after picture editing, writing, blogging and reading (a wonderfully chilling holiday afternoon) I decide to check out their afternoon tea. Somehow eating cucumber sandwiches and strawberry jammed scones seems too quintessentially English summer to consume in front of a crackling fire in mid-December, I tried adding a seasonal glass of mulled wine but it was still a little incongruous. But the smoked salmon and crab sandwiches were wonderfully fresh and appropriate for being so close to the sea, and the fruitcake did seem to make it feel more wintry. I would have rather liked something like a warm cheese scone (memories of Hoste Arms in Burnham Market on an incredibly rain-drenched August afternoon) but a non cheese scone slathered in strawberry jam is more afternoon tea. My only problem is now that it's not many hours until dinner, well that's easily dealt with I'll push back my table for tonight. I'd originally hoped to catch the dramatization of Nigel Slater's Toast as I don't have the luxury of Sky+ here but that's why they invented the heady combination of an iPad and BBC iPlayer I guess! Isn't technology a wonderful thing?
- Posted using BlogPress from my iPad